Dr. Parth Shah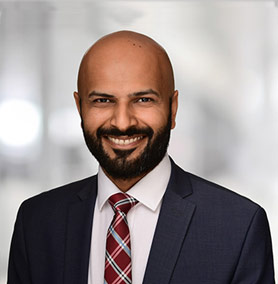 Dr. Parth Shah
Starting in September 2019
Dr. Parth Shah
Ophthalmic Surgeon
MBBS(Hons), BSc(Med)Hons, MMed(Ophth. Sc.), FRANZCO
Paediatric Ophthalmology
Strabismus Surgery
Cataract Surgery
Dr Parth Shah specialises in paediatric ophthalmology, strabismus and cataract surgery.
Dr Shah trained at both the Prince of Wales Hospital and Sydney Children's Hospital in Randwick. He also completed two advanced subspecialty fellowships in paediatric ophthalmology, strabismus, and complex cataract surgery. In the UK's National Health Service, Dr Shah worked at the Birmingham Children's Hospital, Gloucestershire Hospitals, and Oxford University Hospitals. He later moved to the United States, to train under world leading ophthalmologist Professor Ken Nischal at the UPMC Children's Hospital of Pittsburgh. At UPMC, Dr Shah became highly skilled at managing complex paediatric disorders – such as cataracts, congenital corneal opacity, glaucoma, and genetic eye diseases – as well as complex strabismus in children and adults, including adjustable suture surgery and muscle plication.
Over the course of his career, Dr Shah has received numerous awards and scholarships, published widely in peer reviewed literature, and delivered invited lectures at international ophthalmology meetings. He is a Fellow of the Royal Australian and New Zealand College of Ophthalmologists and a member of several international ophthalmic societies including the World Society of Paediatric Ophthalmology & Strabismus and the American Academy of Ophthalmology.
Dr Shah is passionate about medical education and has been involved in teaching medical students, optometrists, and ophthalmology registrars throughout his professional life. He consults and operates at the Sydney Children's Hospital Randwick and The Sutherland Hospital. He is proud to be a Clinical Lecturer at The University of Sydney and a tutor in the University's Optics curriculum.
Dr Shah speaks English, Hindi and Gujarati.